So I have been planning on writing more regularly here. And thought that since I was pregnant, now might be a perfect time to starting blogging and
journaling
my progress, right?
Last Friday, Jase and I headed off super excited to get my 12 week ultrasound. We get to see our little baby for the first time!
I lay on the chair as I have seen mummy do, I get the warm gel on my belly, and watch the picture appear. After a lot of probing, the radiologist sighs and says, "
Ok
, this isn't quite right... it's the worst part of our job to have to tell you this, but I can't find a heartbeat."
?! ?!
All sorts of emotions attack me, and I do everything in my power to stay completely calm and tear free. Jase starts slowly stroking my forehead. The radiologist leaves to get a 2
nd
person's opinion. A couple of stray tears manage to roll out of my non-blinking eyes.
Really?!
He comes back, he's so kind and I can see he hurts for us. The woman with him repeats the procedure and indeed confirms, the lack of heartbeat, and a smaller
foteus
than it should be for the age.
The radiologist said they'd contact our doctor immediately, and told us we could leave without paying (private imaging centre) which was so kind of them. I ducked into work to let them know I wouldn't be back in that afternoon. Then we both drove home.
Crazy... so crazy... how can I be pregnant one minute, and not the next? It was our baby, it was a baby. I want it
backkkkk
. At home, all feel like doing is walking around; I can't sit still. I start doing housework. Jase is calling my parents for me. We've told like everyone now... I thought 10 weeks would be safe enough. I send a group text out to the people I've told.
Everyone's
reply was so kind; lots of people are praying for us right now.
But what about the hat mum gave me for it? She wanted to give me it's first present. Now it will have to lie in the draw till... who knows... I am torn between trying again for a baby immediately and giving myself 10 years.
My cousin Jess brings me flowers. Huge white
lillies
, white carnations and yellow
gerberas
. They are perfect and their perfume fills the house straight away. Makes me think that our little one's spirit is a sweet smell that is rising up to the LORD. I'm going to make those small, fluffy white carnations our baby's flower.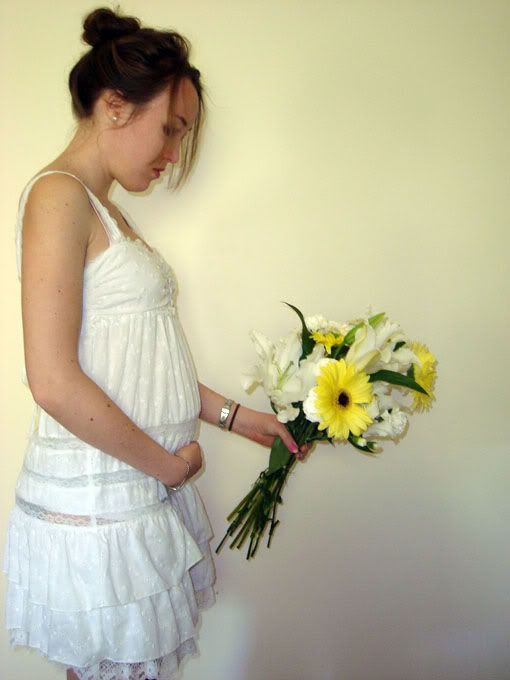 I'm not angry. We've only been married 9 months. There's time. Maybe we can get to Europe next year after all. Whatever the case, this will take a bit of getting used to. Disappointment and shock are the words.
Thank you LORD that our baby doesn't get to see the cruelness of this world. I know you will love him/her for me.